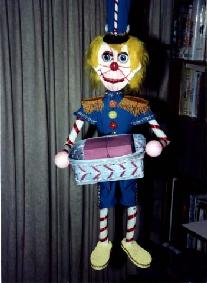 The Puppet Company is pleased to have a birthday party package that would impress even the youngest critic! For a nominal fee, we offer the following activities and attractions:


The birthday child will receive a paper gold crown and the puppets and guests will recognize what a special day this is for them.
A puppet show of your choice will be presented in honor of the birthday child. To see a particular show, click on the desired thumbnail or link below.
After the show is over, "The Candy Man" visits the children. The Candy Man is a three foot tall marionette, who gives each party guest their own toy prize.
Once completed, our puppeteer invites the children backstage to see the puppets and to find out for themselves what it's like to be a puppeteer. An interactive "one-on-one" that the children will love.
The whole puppet visit usually lasts anywhere from 35 - 45 minutes.