Click here to return to The Puppet Company's Current Season.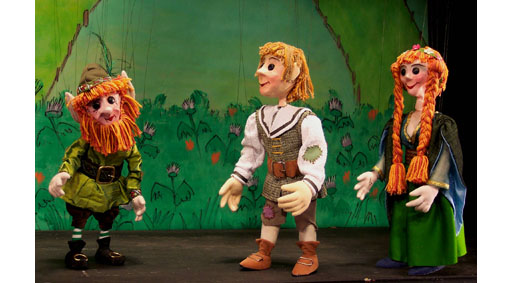 "An Irish Tale"
Hand & Rod Puppets
Deep in the countryside of Ireland, stands an old, deserted well. Well (no pun intended), not exactly deserted. Liam the Leprechaun lives there. "An Irish Tale" is the story of three brothers: Noel, Shamus and Patrick, who each wish to marry the same girl: Meg O'Grady. Yet, each brother has his own plans for what will happen once he wins the girl. Meg's mother asks each of the brothers to go to the well and catch the Leprechaun and his gold and bring prosperity back to the Irish countryside. For Liam has taken the magic from the land, and not even potatoes will grow in the fields. In the course of our tale, Liam will trick two of the brothers but is outwitted by the third! And like all fairy tales it contains messages, this time about compassion and the magic of renewal. Filled with Irish humor and lively fiddle accompaniment, "An Irish Tale" is a story pleasing to all ages, based on three different Irish tales of enchantment. Even though the photos are of marionettes that we used at Children's Fairyland, the hand puppets in this production look exactly the same.
Click on the thumbnail to see the enlarged image at the top.
Click on Promo if you would like the original size of the image for promotional use.
For ordering your own puppet creation or for more more information on scheduling a performance at your school or function, please call:

The Puppet Company at (510) 569-3144 (California)
"Entertainment for all ages!"