Click here to return to The Puppet Company's Current Season.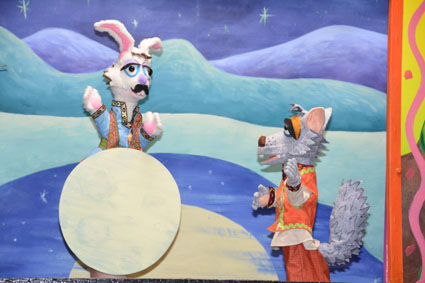 "Rabbit & Coyote Are Friends?"
Hand & Rod Puppets
Why do Coyotes howl? Why can Rabbit be seen on the moon? When did these two animals start playing tricks on each other? Why can't the Moon marry the Sun? These questions will all be answered by this classic Mexican fairy tale. You'll laugh while Mice do a Mexican hat dance, Rabbit & Coyote chase each other, and a Catus shows off his chicken dance. Based on a popular children's book, The Puppet Company takes you to the crazy world of Rabbit and Coyote. Poor Coyote, no matter how much he wants to trust Rabbit, the tricky creature is always getting the best of him. A lively tale full of color, and with a upbeat soundtrack featuring the music of Herb Alpert and the Tijuana Brass! Puppet fun for the whole family! Olé!
Click on the thumbnail to see the enlarged image at the right.
Click on Promo if you would like the original size of the image for promotional use.
For ordering your own puppet creation or for more more information on scheduling a performance at your school or function, please call:

The Puppet Company at (510) 569-3144 (California)
"Entertainment for all ages!"