Click here to return to The Puppet Company's Current Season.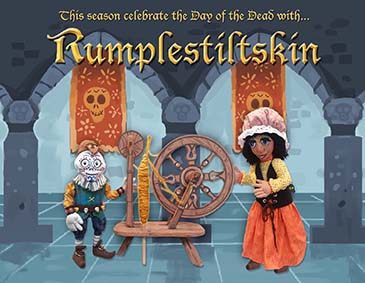 "Rumplestiltskin or What's In A Name?"
Hand Puppets
The Puppet Company is proud to present, just in time for Dia de los Muertos: "Rumplestiltskin, or What's In A Name?" This is the story of a little spirit that does not wish to be remembered. The classic Grimms Brothers tale comes to life with a Mexican twist. Isabella's father has told the king that she can spin straw into gold! And if she doesn't, her father will suffer. Along comes a little sugar skeleton that does the job for her…if she gives him her little baby girl. But, to be fair, he gives her three days to guess his name. Will she succeed in time for the Day of the Dead celebration? Filled with colorful scenery and authentic Mexican music.
Click on the thumbnail to see the enlarged image at the left.
Click on Promo if you would like the original size of the image for promotional use.


For ordering your own puppet creation, or for more information on scheduling a performance at your school or function, please call:

The Puppet Company at (510) 569-3144 (California)
"Entertainment for all ages!"