Click here to return to The Puppet Company's Current Season.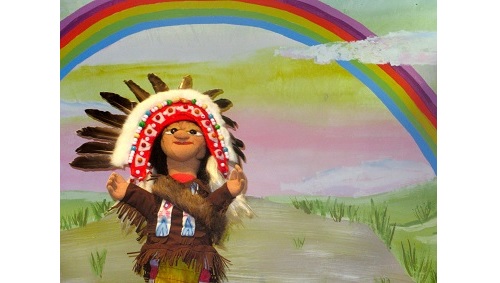 "Three Brave Deeds"
Hand & Rod Puppets
Based on three Native American short legends. This is the story of a young brave named Yuki, who has to complete three brave deeds in order to become a member of his tribe and bring prosperity to his people. Tatanga Mani, the tribes Shaman, sends him on his journey. His three deeds are simple: 1) Get a tail feather from Huya the eagle, 2) a strip of fur from Mato the bear, and 3) Release Tate Wyopayata, the West Wind, from the trap of Mica the Coyote. Each of these accomplishments will teach him to be a stronger individual. But in order to do these things, he has to learn how to get along with others and his many animal friends. A wonderful tale for the whole family! Complete with majestic music and breathtaking scenery.

Click on the thumbnail to see the enlarged image at the right.
Click on Promo if you would like the original size of the image for promotional use.
For ordering your own puppet creation or for more more information on scheduling a performance at your school or function, please call:

The Puppet Company at (510) 569-3144 (California)
"Entertainment for all ages!"