Click here to return to The Puppet Company's Current Season.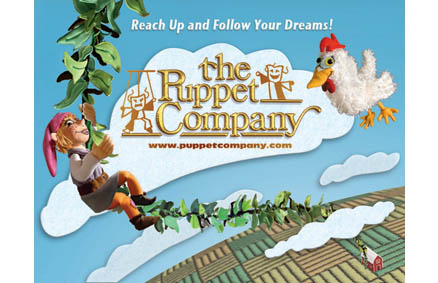 "Jack & The Beanstalk"
Hand & Rod Puppets
Everyone thinks young Jack is not very bright; especially after he sells his only cow for three magic beans! But, Jack believes in magic, and so will you. Follow him up the beanstalk as he finds out what really lives in the clouds and outwits a Giant, saves a Princess, and discovers a Hen that lays golden eggs. The Puppet Company is proud to bring to life this old English fairy tale. A story about sticking to your dreams and following whatever path may be put in your way.
Click on the thumbnail to see the enlarged image at the left.
Click on Promo if you would like the original size of the image for promotional use.

For ordering your own puppet creation or for more more information on scheduling a performance at your school or function, please call:

The Puppet Company at (510) 569-3144 (California)

"Entertainment for all ages!"