Click here to return to The Puppet Company's Current Season.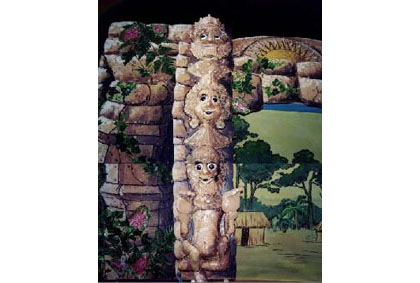 "Why Mosquitoes Buzz In Our Ears"
Hand and Rod Puppets
The African drums begin to pound as the jungle awakens to a new day. Also awakening are the stone idols of Kwaku, Aleka, and Mammo, our storytellers. These stone carvings tell the tale of poor Mosquito and how he commits a terrible crime in the jungle - without even knowing it! Based on the popular children's book, the antics of Iguana, Monkey, Python, and King Lion are acted out as only puppets can do them justice. With the use of authentic African music and stunning jungle scenery, the puppets come to life and cast their magical spell over the entranced children. Told with a "tongue in cheek" style, this tale definitely has something for everyone! Suitable for all ages.
Click on the thumbnail to see the enlarged image at the left.
Click on Promo if you would like the original size of the image for promotional use.
For ordering your own puppet creation or for more more information on scheduling a performance at your school or function, please call:

The Puppet Company at (510) 569-3144
"Entertainment for all ages!"