Click here to return to The Puppet Company's Current Season.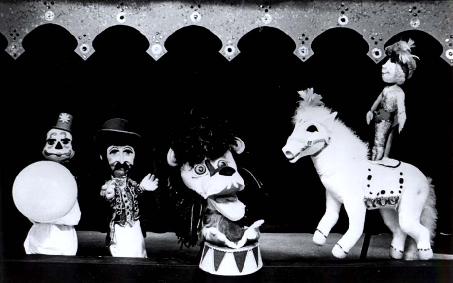 "The Puppet Circus!"
Hand, Rod, & Marionettes
"The Puppet Circus" combines three forms of puppets: hand, rod, and marionettes. With over 30 puppets in the circus, there's something for everyone! The Ding-A-Ling Bros. Circus features clowns, a tight rope walking bear, elephants, lions, and a large opening circus parade. This show was based on actual circus acts that Randal was able to work with when he traveled for two years as the puppeteer in a small town traveling circus. This show is also great for fairs, festivals, assemblies, and largely attended functions. Book today your own miniature three-ring circus! Suitable for all ages.
Click on the thumbnail to see the enlarged image at the left.
Click on Promo if you would like the original size of the image for promotional use.
For ordering your own puppet creation or for more more information on scheduling a performance at your school or function, please call:

The Puppet Company at (510) 569-3144 (California)
"Entertainment for all ages!"