Click here to return to The Puppet Company's Current Season.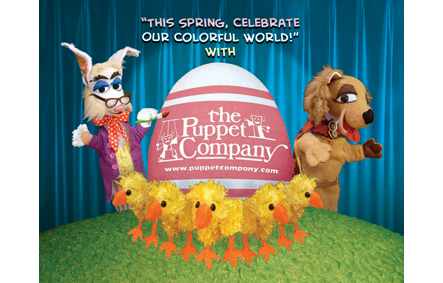 "Grandpa Bunny's Egg-citing Day!"
Hand & Rod Puppets
Based loosely on a poem by Mrs. Roy L. Peifer, this lovely holiday tale explains how eggs are colored by rabbits for all the Spring festivities. Painted just in time to be hidden for happy children in all the grass and bushes. Grandpa Bunny and his friends take everyone on a tour of the seasons. But what do you suppose happens when Frisky Puppy decides to play? You'll laugh while Grandpa Bunny, Irving and his chick workers try to save the seasons and their special paints from this playful pup. Jack Frost and Mother Spring even join in on the fun. A non-secular tale that can be enjoyed throughout the year. Featuring lively music, original songs, and even an egg coloring machine!

Click on the thumbnail to see the enlarged image at the left.
Click on Promo if you would like the original size of the image for promotional use.
For ordering your own puppet creation or for more more information on scheduling a performance at your school or function, please call:

The Puppet Company at (510) 569-3144 (California)

"Entertainment for all ages!"