Click here to return to The Puppet Company's Current Season.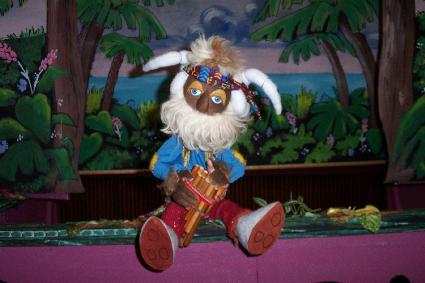 "Just So!"
Hand Puppets & Rod puppets
Papa Bois'e, Caribbean folk tale hero and protector of the environment, tells and sings two tales from Rudyard Kipling's "Just So Stories". We are proud to share with your audiences this new telling of two classic Kipling adventures. Within this new adapting of the stories, you will find that the Puppet Company has taken great care to remove any objectionable parts of the tale and instead has given the stories new life and even a few "fun" moral lessons. The puppet theater comes alive with the sounds of a Caribbean jungle and the exciting music of steel drum accompaniment. An added feature is five songs written especially for this production by Bay Area lyricist Tony Jonick and Caribbean songwriter Asheba! Local Bay Area professional actors supply the accompanying vocal tracks. So join us for a stroll through a Caribbean jungle and witness for yourself "How the Camel Got His Hump" and "How the Elephant Got His Trunk."


Click on the thumbnail to see the enlarged image at the top.
Click on Promo if you would like the original size of the image for promotional use.
For ordering your own puppet creation, or for more information on scheduling a performance
at your school or function, please call:

The Puppet Company at (510) 569-3144 (California)
"Entertainment for all ages!"