Click here to return to The Puppet Company's Current Season.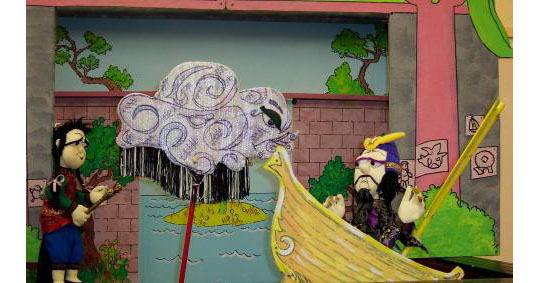 "Mae Lin & The Magic Brush"
Hand Puppets & Rod puppets
Based loosely on an old Chinese tale, this is the story of a young girl who is given a magic brush that can make anything she paints come to life! Mae Lin's evil uncle, Pang Foo, has taken over her late father's position as Mandarin. Pang Foo takes great delight in keeping her mother and Mae Lin as household servants. Mae Lin's only happiness is drawing pictures in her father's garden and giving them to Buddha. One evening the Spirit Dragon, Fang Yee, appears to her and presents Mae Lin with a brush that can only be used for good. Anything she paints with it will spring out of the drawing pad. Pang Foo finds out about this and forces her to paint pictures of gold for him. Because he has angered the gods, Pang Foo pays for his crimes and happiness reigns after all. The show features a traditional dragon dance, authentic Chinese provincial music, and lots of surprises. Suitable for all ages.


Click on the thumbnail to see the enlarged image at the top.
Click on Promo if you would like the original size of the image for promotional use.

For ordering your own puppet creation, or for more information on scheduling a performance at your school or function, please call:

The Puppet Company at (510) 569-3144 (California)
"Entertainment for all ages!"