Click here to return to The Puppet Company's Current Season.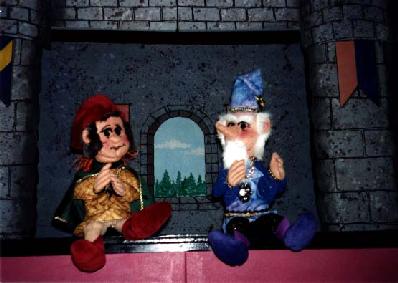 "Another Princess & The Pea"
Hand, Rod, Marionettes, and Body Puppets
Beginning with a prologue introducing Hans Christian Andersen to the children, the Puppet Company invites you to a celebration of Andersen's greatest tales. Hans (myself in a puppet costume) has been asked to write a tale for the King's festival. While trying to come up with an idea, he presents a ballerina who dances for the kids, and then he tells the tale in song of "The Ugly Duckling". Hans then gets the inspiration for "The Princess & The Pea". The Puppet Company updates this classic tale with modern anachronisms and humor. Queen Domina does not wish her son, Prince Timid, to marry. If he does so, then she is no longer Queen. Therefore, the Wizard Bungle and the Queen come up with impossible tasks for each Princess to complete in order to prove that they are a "true Princess". One night, Princess Maladroit stumbles onto the castle. The Queen must test her and arrives at the decision that only a "true Princess" could sleep on a small pea and feel it under her mattress. And to make the test even harder, she puts nineteen other mattresses on top of the Princess' air mattress. Will she feel the pea? She must since all fairy tales end with the words: "They lived Ha-pea-ly ever after!" Suitable for all ages.
Click on the thumbnail to see the enlarged image at the top.
Click on Promo if you would like the original size of the image for promotional use.
For ordering your own puppet creation or for more more information on scheduling a performance at your school or function, please call:

The Puppet Company at (510) 569-3144 (California)
"Entertainment for all ages!"