Click here to return to The Puppet Company's Current Season.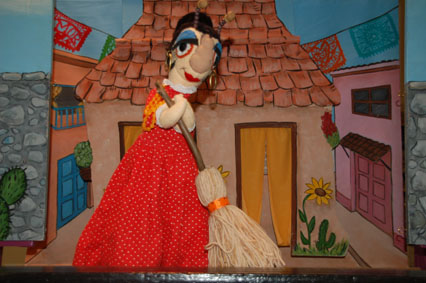 "Perez and Mondinga"
Hand Puppets
This is the story of a cockroach who marries a mouse. Mondinga Cockroach decides it is time for her to marry and settle down. And so she looks for a suitor. The loud Rooster wishes to marry her, but he is too loud and boastful. The rich little Pig would love to settle down, but he is just looking for someone to clean his house. And worst of all, the evil Cat wants Mondinga for his own. But..he is too scary. And then comes Perez Mouse. Strumming his guitar and speaking gently. Mondinga falls in love and they agree to marry. This Mexican fable tells the story of how Perez and Mondinga settle down, hold a wonderful fiesta, and defeat the evil Cat who tries to ruin everything. Filled with lovable animal characters, this Mexican spectacular is suitable for all ages.
Click on the thumbnail to see the enlarged image at the left.
Click on Promo if you would like the original size of the image for promotional use.

For ordering your own puppet creation, or for more information on scheduling a performance at your school or function, please call:

The Puppet Company at (510) 569-3144 (California)
"Entertainment for all ages!"