Click here to return to The Puppet Company's Current Season.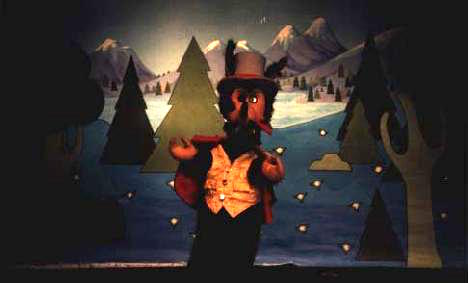 "The Perils of Little Red"
Hand Puppets
In this classic "fairytale melodrama", Little Red must save her Grandma's house from being taken away by the bank. One day, Grandpa left with the money for the mortgage and was never seen again. And so Little Red leaves her home and brings a basket of goodies and cash through the woods to her Grandmother. Along the way she meets her father, Sergeant Hood of the Royal Mounties, who tells her to watch out for the Wolf. She's not afraid. She does meet the Wolf, who has arranged to get Grannie's House, if he can keep the money from getting to her. After several failed attempts at tying Little Red to a buzz saw and train tracks, the Wolf disguises himself as Grandma. Little Red sees through the disguise (eventually) and traps the Wolf in his own snare! A fun show for everyone, with a determined heroine who has tremendous luck! Based on old- fashioned melodramas and the cartoon styling of Jay Ward's "Fractured Fairytales", the show features turn of the century piano music and fanciful sound effects. Due to the melodramatic nature of the tale, it might not be suitable for all audiences.
Click on the thumbnail to see the enlarged image at the top.
Click on Promo if you would like the original size of the image for promotional use.
For ordering your own puppet creation or for more more information on scheduling a performance at your school or function, please call:

The Puppet Company at (510) 569-3144 (California)
"Entertainment for all ages!"