Click here to return to The Puppet Company's Current Season.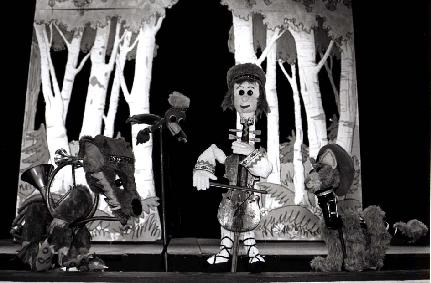 "Peter And Wolf!"
Hand, Rod, & Marionettes
Based on the famous Prokofiev musical piece for young adults, this delightful puppet show helps to teach children about the different instruments of the orchestra. Young Peter, against his Grandfather's warnings, sets out for a grand adventure. He wishes to capture the Wolf that is terrorizing the countryside. With the help of his friends: Sasha the bird, Sonia the duck, and Ivan the cat, he finally wins in the end and learns a great lesson. Suitable for all ages.
Click on the thumbnail to see the enlarged image at the left.
Click on Promo if you would like the original size of the image for promotional use.

For ordering your own puppet creation or for more more information on scheduling a performance at your school or function, please call:

The Puppet Company at (510) 569-3144 (California)
"Entertainment for all ages!"