Click here to return to The Puppet Company's Current Season.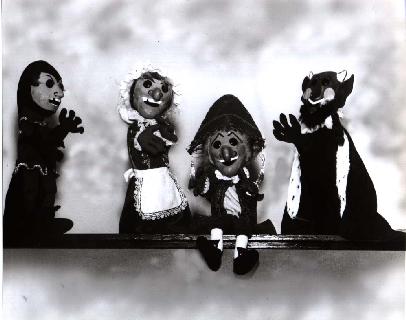 Click on Promo if you would like the original
size of the image for promotional use.

"Punch and Judy"
Hand Puppets
The Puppet Company does present an updated version of "Punch and Judy". Using comic voices and cartoon sound effects, we attempt to tune down some of the violence that surrounds this show. A crowd pleaser at Renaissance Fairs and historic parks, "Punch and Judy" is only suitable for some venues. Punch overcomes his nagging wife Judy, "baby-sits" the baby, catches up the Hangman, and finally outwits the Devil. These puppets are also great for photo displays and staged shows. Note: Not suitable for very small children.
For ordering your own puppet creation or for more more information on scheduling a performance at your school or function, please call:

The Puppet Company at (510) 569-3144 (California)
"Entertainment for all ages!"