Click here to return to The Puppet Company's Current Season.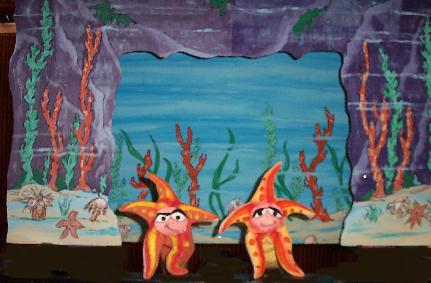 "Why The Sea Is Salt"
Hand Puppets & Rod puppets
This is a fun Norwegian tale that takes place under the sea! Gillie and Granny Fish live under the ocean with all of their aquatic friends. One day Granny tells Gillie the story of why their sea is made of salt. It seems that Joseph and his wife Joanna were very poor, yet wealthy in the ways of the heart. One day Joseph visits his mean brother Mervin to borrow some food. Mervin gives him a box of soggy crackers and tells him to leave. Happy with Mervin's generosity, Joseph hurries home. On the way he meets a hungry troll who he shares his crackers with. In payment, the troll gives him a magic mill which will grind out anything he desires. Joseph hurries home and shares his new magic mill with everyone. Mervin is beside himself and steals the mill from his trusting brother. Mervin then sets out to sea to make his fortune selling salt to hapless countries. The troll (disguised as a sailor) tricks Mervin into asking the mill to grind salt. It does - yet Mervin doesn't know how to make it stop. The troll vanishes and Mervin and the Mill sink to the bottom of the ocean. And to this day, the mill still grinds out salt. Filled with lots of jokes, and authentic Norwegian music, this story is a popular crowd pleaser. Suitable for all ages.
Click on the thumbnail to see the enlarged image at the top.
Click on Promo if you would like the original size of the image for promotional use.

For ordering your own puppet creation, or for more information on scheduling a performance at your school or function, please call:

The Puppet Company at (510) 569-3144 (California)
"Entertainment for all ages!"