Click here to return to The Puppet Company's Current Season.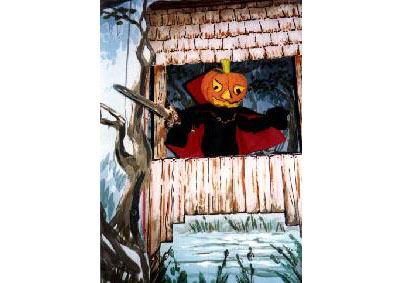 "The Legend of Sleepy Hollow"
Hand Puppets
A great tale for the Halloween season based on Washington Irving's spooky tale of ghosts and local superstitions. Sleepy Hollow Swamp is inhabited by the horrible specter of "The Headless Horseman". Ichabod Crane, the new schoolteacher comes to teach in the town of Sleepy Hollow. He soon falls in love with Katrina Van Tassel, the prettiest girl in town. However, Brom Bones, the local bully, also wants to marry Katrina. Brom soon finds out that his bullying is no match for Ichabod's charms. And then one Halloween night, he tells the story to Ichabod of "The Headless Horseman", who haunts the swamp on Halloween night. With no way else to get home, Ichabod must cross the swamp that night to reach the safety of his house. Will he make it? We won't tell (until you see the show)! Note: We've adapted the tale to have a happier ending than the original and have included the character of Miles Van Humbugger. Miles is a trouble making student that Ichabod has in his class. Miles is also impressed by Brom Bones and wants to be like him. A tale suitable for all ages!
Click on the thumbnail to see the enlarged image at the top.
Click on Promo if you would like the original size of the image for promotional use.
For ordering your own puppet creation or for more more information on scheduling a performance at your school or function, please call:

The Puppet Company at (510) 569-3144 (California)
"Entertainment for all ages!"