Click here to return to The Puppet Company's Current Season.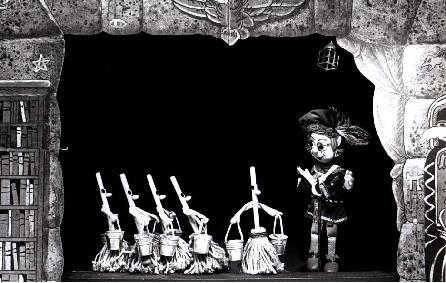 "The Sorcerer's Apprentice"
Hand, Rod, & Body Puppets
Based on the music of the famous classical piece by Paul Dukas, the Puppet Company brings to your function the magics, mystery, and music of this enchanting tale. Harold wishes to become the apprentice of the local Sorcerer. He wants to learn the ancient arts so that he too can become famous. But, being too curious, Harold is tricked by Psyche into playing with the Sorcerer's spells. Psyche is an imp that Harold mistakenly let out of a magic bottle. Listening to the imp's advice, Harold casts a spell that would bring his broom to life. But things go wrong and Psyche himself is turned into a broom. Being naturally mischievous, Psyche runs around bringing water from the river and overfilling the magic cistern that the Sorcerer uses for his spells. Harold tries to control the broom but can't. In desperation, he chops the broom into a million pieces! And that's where the fun begins. Soon each piece is turned into another broom, and together they begin to flood the castle. Only the Sorcerer and his magic cat, Mage, can help. Children might recognize this story form Disney's "Fantasia". Mickey Mouse was the apprentice in that one. Note: The Sorcerer is a costume worn by myself, and so the Sorcerer is six feet tall. The first part of the story is myself doing real magic in costume to the music of "Dance Macabre". The second part is the story with the puppets and myself in costume. Suitable for all ages.
Click on the thumbnail to see the enlarged image at the top.
Click on Promo if you would like the original size of the image for promotional use.
For ordering your own puppet creation or for more more information on scheduling a performance at your school or function, please call:

The Puppet Company at (510) 569-3144 (California)
"Entertainment for all ages!"