Click here to return to The Puppet Company's Current Season.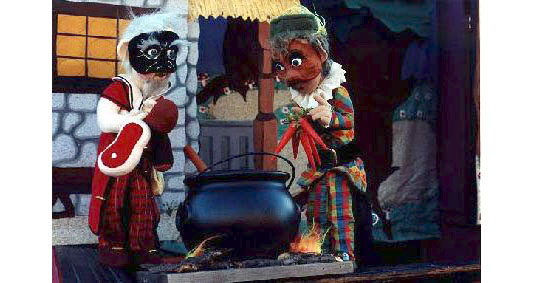 "Trickster Tales"
Hand Puppets
The classic characters of the Italian Commedia Del'Arte come to life in this comic blending of two funny fables: "The Three Wishes" and "Stone Soup". These masked puppets tell how Arlecchino (Harlequin) wants to marry Colombina, but their employer, the greedy Pantalone, keeps putting obstacles in their way. Arlecchino has to find out how to get enough food for the wedding banquet as well as making sure there is enough wood for the hearth. All without it costing Pantalone a cent! And...when he frees a trapped wizard from a tree who gives him three wishes, things really get out of hand! But a happy ending is assured, and Pantalone learns a valuable lesson. Based on ethnic folk tales. Suitable for all ages.
Click on the thumbnail to see the enlarged image at the left.
Click on Promo if you would like the original size of the image for promotional use.
For ordering your own puppet creation or for more more information on scheduling a performance at your school or function, please call:

The Puppet Company at (510) 569-3144 (California)
"Entertainment for all ages!"