Click here to return to The Puppet Company's Current Season.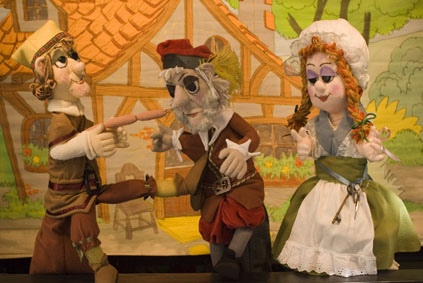 Click on Promo if you would like the original
size of the image for promotional use.

"Trickster Tales II"
New Adaptation & Puppets
Hand & Rod puppets
The enchanting magic of the German fairy tales come to life in the joining of two classics: Stone Soup & The Three Wishes. Young Hans wishes to marry his childhood love Elisa. How- ever, Elisa's father is very stingy and greedy and keeps coming up with reasons for the marriage not to take place. When he says that he doesn't have enough food to feed all the guests, Hans suggests they make "Stone Soup". The father is quickly fooled and soon uses his own food ingredients to make a delicious meal he thinks is made from a stone. Finding out he has been tricked, the father sends Hans into the forest to chop wood. While there Hans frees a trapped gnome, named Fiddle- sticks, and is given three magic wishes. Soon all sorts of funny things happen as the three wishes are misused and a lesson is learned. Yet...all live happily ever after. A fun show for all ages featuring authentic folk music and colorful scenery.
For ordering your own puppet creation, or for more information on scheduling a performance at your school or function, please call:

The Puppet Company at (510) 569-3144 (California)
"Entertainment for all ages!"