Meet The Puppet Company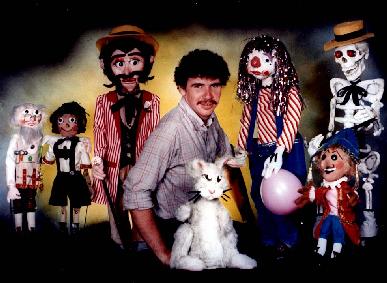 Randal Metz & friends. c. 1985
Promo
The Puppet Company was created by Randal Metz, and has been producing imaginative family entertainment for close to 50 years. It strives to present quality children's productions that appeal to all ages. Each tale or well known "puppet classic" is told with humor and delights the eyes with well crafted puppets and colorful scenic effects. "Combining theater and puppetry is the key to a successful and creative production." And after seeing just one performance you'll wholeheartedly agree!
Randal has been pulling the strings of the Puppet Company since the age of ten. With a B.A. Degree in Theater and Children's Theater from San Francisco State University, he is well prepared for the vigorous job of entertaining families. After 20 years of apprenticing with Master Puppeteer Lewis Mahlmann, of Children's Fairyland, he became partners with his "at one-time" teacher and currently produces seven different puppet shows a year for Fairyland which is located in Lakeside Park in Oakland. Thanks to Mahlmann's influence, Randal is able to tackle any tale that will educate or enthrall youngsters. From "The Three Pigs" to "The Magic Flute", wherever the imagination will travel, the Puppet Company can take you there.
Randal has also trained with other well known puppeteers. Most notable of these is The Bob Baker Marionettes in Los Angeles. Here he learned how to create the large, three feet tall articulated marionettes that The Puppet Company uses for their variety shows. The Bob Baker Marionettes are well known for work at Disneyland in Anaheim as well as a long list of movie credits. Randal was also fortunate to be one of 25 students across the United States to partake in an intensive two week course on puppet history: A Survey of Puppet Theatre Techniques, taught by the The Muppets and their artists.
| | | | |
| --- | --- | --- | --- |
| | | | |
| | | | |
| Randal Metz rehearses the Velveteen Rabbit and the Jack in the Box for a Children's Fairyland presentation. 2019. | Randal prepares Fairyland's puppet "Karl the Kid!" to greet visitors to the park during the quarantine period. 2020. | Randal Metz and Rhonda Godwin, the Puppet Lady, prepare for a performance of "The Nutcracker." 2019. | Randal and friend paint the sides of the Storybook Puppet Theater at Fairyland. 2006. |

Click on Promo if you would like the original size of the image for promotional use.