Click here to return to Puppets Built And Rented...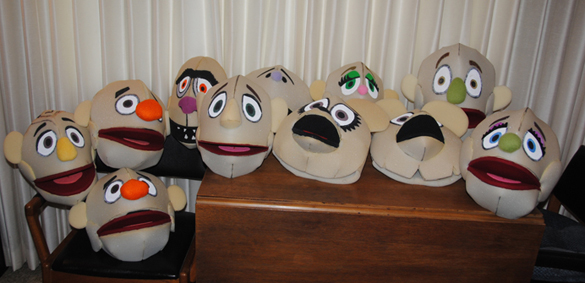 "Avenue Q"
A musical by Robert Lopez, Jeff Marx & Jeff Whitty
A hilarious, adult take on the popular television show: Sesame Street. What happens when all the wonderful life opportunities we were taught to expect when we were young, suddenly don't seem to be happening? Using the framework, and style of Sesame Street, Lopez, Marx & Whitty take us on a funny, provocative, heartwarming look at reality in the big city. A musical where puppets and humans live side by side. The puppets are based loosely on the popular puppet designs of Jim Henson and the Muppets. You might recognize several Sesame Street friends lampooned in this production. The puppets were designed by puppeteer Rick Lyon, who also performed in the show. Our puppets are built about 1/4 size larger than the originals. This is so that the puppet is not dwarfed by the actor- puppeteer who works it on stage. Theaters who have rented our puppets for their productions have greatly appreciated this size difference. The puppets we rent are based on the original Rick Lyon designs. The Broadway production used over 25 puppets in their presentation. This provided for puppets to have several costume changes on stage. For the sake of keeping the costs down, we have built the show like it was originally done off Broadway. This calls for 14 individual puppets, complete with some extra costumes to be used in the show. The puppet rental also includes several foam heads to be used in rehearsal, as well as a DVD on how to operate the puppets on stage and some suggested puppet exercises. Please contact us for more information and costs.
Click on the thumbnail to see the enlarged image at the top.
Click on Promo if you would like the original size of the image for promotional use.
For rental costs or questions call:

The Puppet Company at (510) 569-3144 (California)
"Entertainment for all ages!"