Click here to return to Puppets Built And Rented...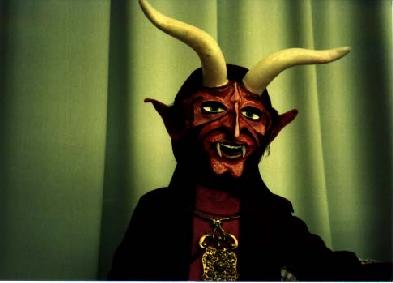 "The Mystery of Edwin Drood"
A musical by Rupert Holmes
Based on Charles Dicken's last "unfinished" novel, Drood is the story of an aging, English theatrical company that attempts to complete the famous author's tale. They act out the story all the way up to the moment where Dickens left it when he died. At this point, they leave it up to the audience to decide who the murderer of Edwin Drood really was. The audience then chooses their favorite actor or actress and the play is completed. Many possible endings to this one!
At one point in the play, the villain - Jasper, goes to the opium den of Madam Puffer. He hallucinates about his denied love for Rosa, who he is assigned to be guardian for. The play calls for a dance number at this moment. The Puppet Company was contacted to come up with an idea for Jasper's nightmare that wouldn't call for an expensive dance segment. Using the smoky atmosphere of the opium den and the use of black lighting, we created large puppets that reek of Victorian morals and terrorize the drugged Jasper.
Jasper moans in his night-dreams and sees before him a floating snake. The image slithers over him and tightens around his arms. He breaks free and sees his beloved Rosa floating towards him. This half-nude image reaches out to embrace him and as he reaches for her, she pulls off her beautiful face and becomes a succubus, hungering for his soul. Jasper screams. Just before he awakens from his drugged stupor, The Devil rises before him and commands that he follows him to Hell. Jasper falls from his bed, the images vanish, and a much shaken Jasper asks forgiveness for his sins. A great scene!
The puppeteers dress completely in black with hoods and gloves, and therefore, under the black light, only the puppet is seen.
Click on the thumbnail to see the enlarged image at the left.
Click on Promo if you would like the original size of the image for promotional use.

For rental costs or questions call:

The Puppet Company at (510) 569-3144 (California)
"Entertainment for all ages!"