Click here to return to Puppets Built And Rented...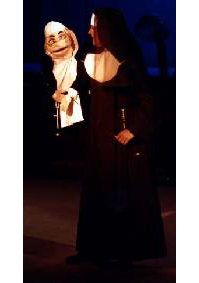 "Nunsense"
A Musical Comedy Revue
The Little Sisters of Hoboken are forced to put on a musical revue in order to raise money for the burial of their fellow sisters. It seems that a lethal pot of soup reduces the number of sisters from 52 to 4. These four then invite the public for a song and dance extravaganza relating to them the splendors of being a nun. One sister, Sister Mary Amnesia, finds out that she has a knack for ventriloquism. And so, with her puppet, Sister Mary Annette, they do a number entitled: "So You Want To Be A Nun?" Our Sister Mary Annette puppet features a Muppet-type mouth with a hand control rod. She is very expressive and carries to the audience better than the puppet you can get from the musical company.
Click on the thumbnail to see the enlarged image at the left.
Click on Promo if you would like the original size of the image for promotional use.
For rental costs or questions call:

The Puppet Company at (510) 569-3144 (California)
"Entertainment for all ages!"