Click here to return to Puppets Built And Rented...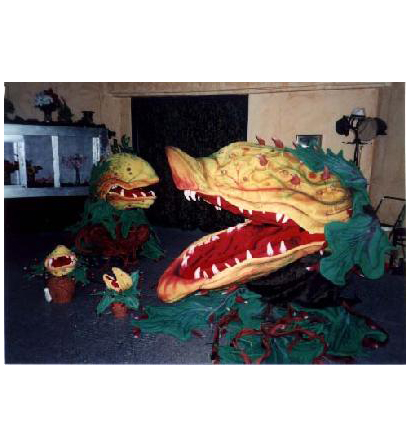 "Little Shop Of Horrors"
A Musical Comedy
by Howard Ashman & Alan Menken
Based on Roger Corman's famous 60's horror movie, Howard Ashman and Alan Menken (Of Beauty and the Beast & Little Mermaid Disney fame), bring to the stage this delectable tale of a man-eating plant that wants to take over the world. Seymour Krelborn tries to save the skid-row florist shop he works in by displaying this unusual plant he found at the flower market. The plant begins to weave a mysterious spell, and customers come flocking to the store. The only sticking point is the fact that the plant requires blood to grow. This works out fine in the beginning as Seymour pricks his own skin to feed the fledgling plant. But then, it demands bigger meat. Soon Seymour is offering up his truelove Audrey's sadistic, dentist boyfriend as well as Mr. Mushnick, owner of the floral shop. And the way is then clear for romance to blossom between Audrey and Seymour. However, Audrey II, as Seymour has named his plant, has other ideas. When Seymour plans to run away with Audrey and destroy the plant, the fun really begins. A great rock and roll, horror, fantasy!
Click on the thumbnail to see the enlarged image at the right.
Click on Promo if you would like the original size of the image for promotional use.
Based on the original Broadway puppet-plant designs by Martin P. Robinson, The Puppet Company has designed the out-of-this-world plant in four stages of puppets:
Stage 1:
Small, withering, hand puppet in pot that begins to grow when Seymour offers blood.
Stage 2:
Larger hand puppet version with a fake arm attached to pot that Seymour carries around on stage.
Stage 3:
A large Plant Puppet-costume that has complete body movement and leg-vines that flop around.
Stage 4:
A larger than life Costume/Puppet that eats whole actors, and at the end supplies flower blooms
that encase his victim's faces for the finale song
These flower puppet/costumes have been specifically designed to give more movement than those that can be previously rented for the show. They are made of soft foam - easy for the puppet- actor to manipulate. They are not as heavy as some flower costumes are. Our Audrey II, as you can see, is a cross between the original "fly-trap" design of the Broadway production and the natural vine- like version used in the Frank Oz film. These puppets are available for one rental fee, and can be used as long as you need them.
For rental costs or questions call:

The Puppet Company at (510) 569-3144 (California)
"Entertainment for all ages!"