Click here to return to Puppets Built And Rented...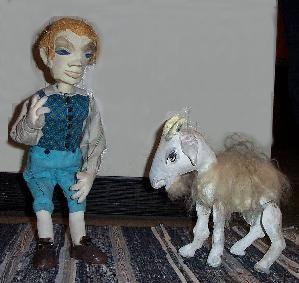 Click on Promo if you would like the original
size of the image for promotional use.

"The Sound Of Music"
A musical by Rodgers and Hammerstein
Everyone loves the "The Sound of Music." The musical of a family who sings together and escapes from the clutches of the Nazi party during World War II. The movie in 1963 was a smash hit starring Julie Andrews. And one of it's most memorable scenes is when Maria uses marionettes to sing "The Lonely Goatherd" song with the children. Although the stage musical does not call for puppets to be used, the images from the film remain a favorite with viewers. After many requests, the Puppet Company has built two marionettes of a little boy goatherd and goat which can be used easily in your stage production. The marionettes were modeled after authentic Austrian wood puppets. Easy to manipulate and large enough to be seen on stage, these puppets will add a heartwarming moment to your stage production of "The Sound of Music!"
For rental costs or questions call:

The Puppet Company at (510) 569-3144 (California)
"Entertainment for all ages!"