Click here to return to Holiday Shows.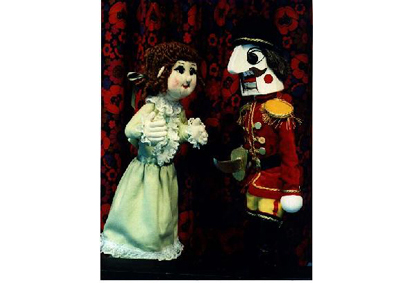 "The Nutcracker"
Hand, Rod, & Marionettes
Based on the tale by E.T.A. Hoffman and the music of Tchaikovsky, "The Nutcracker" tells the tale of young Clara, who rescues her toy Nutcracker from the evil Mouse King and turns him into a Prince. In doing so, she visits the land of the Sugar Plum Fairy and witnesses all kinds of holiday marvels. Our show features Dancing Candies, The Snow Queen spreading snow over all the children, Prancing Clowns, Mechanical Toys, and Chinese Dragons. And of course the big battle between the Mouse King's armies and the toys and candies! A Winter treat for all ages, featuring over 40 puppets.
Click on the thumbnail to see the enlarged image at the top.
Click on Promo if you would like the original size of the image for promotional use.
For ordering your own puppet creation or for more more information on scheduling a performance at your school or function, please call:

The Puppet Company at (510) 569-3144 (California)

"Entertainment for all ages!"